What does it mean that you a

 

christian

 

to be an erotica shop?
We have noticed that there is a need among Christians for a safe and 'neutral' environment to order erotic products. With our Christian erotic shop we offer this environment. Webshop intimitijd contains a careful selection of quality products. We strive to keep our webshop and products free of nude photos, pornographic images and offensive language. In addition, we try to provide as much information as possible about the use of certain products.
We are aware that opinions about the use of some erotic products vary greatly among Christians. If you have any questions, complaints and/or suggestions, please contact us at info@intimitijd.nl
Are orders shipped discreetly?
All orders are discreetly packed in a neutral box or envelope. This means that it is not possible to see from the outside what is in the package or where it comes from. The address sticker only contains the details of the parcel service. See example: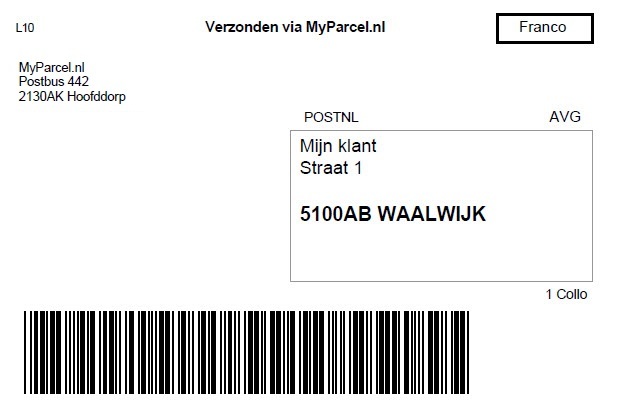 Why are condoms not (always) sent as parcel post?
Condom packages do not fit through the letterbox. If you order a pack of condoms as the only item, we will in some cases ship them in a bubble envelope. Condoms are always well packaged and the bubble envelope offers extra protection. We will fold the original packaging and include it with the original leaflet. This way you don't have to be home for the delivery! If you order condoms in combination with other products, we will leave the packaging intact and simply send it as a package.
What payment options do you offer?
At intimate time you may pay via iDEAL, credit card, by transferring the amount before shipment or by having it sent cash on delivery. There are no additional costs associated with payment via iDEAL, credit card, post-payment or advance transfer.
What is the delivery time?
We aim to deliver all orders the next working day if ordered before 10pm. If the delivery time is longer than 5 working days due to insufficient stock, we will contact you by e-mail.
Do I also pay shipping costs?
Above €49.95, you pay no shipping costs at all (in the Netherlands)!
With an order under €49.95, you pay (only part of) the shipping costs. This is €7.45 for orders with a value of less than €20. For orders with a value between €20 and €49.94 you pay €5.95 shipping costs.
Is Intimitijd registered with the Chamber of Commerce?
Intimitijd is an official company and is registered with the Chamber of Commerce (KvK):
Chamber of Commerce no. 61138851
VAT no. NL001971900B93
Business address:
Bear claw 74
6665 HW Driel
Can I also pick up the products?
Intimitijd is a webshop and therefore has no physical store. Picking up products is therefore not possible. We can organize a 'ladies night' for groups of women in consultation. At a ladies night you invite a group of women who are interested in different erotic products. A (female) employee of Intimitijd comes along with a selection of products for those present to view. There is ample opportunity to ask questions and we will provide information about the operation of various products. Would you like to know more about organizing a ladies night? Then contact us at info@intimitijd.nl
Can I change or cancel my order after confirmation?
If you still want to change something after confirming your order, we ask you to pass this on as soon as possible via info@intimitijd.nl . If you want to cancel the order after placing it, please inform us as soon as possible.
According to the new consumer law you have the right to cancel your order up to 14 days after receipt without giving any reason. After cancellation you have another 14 days to return your product. You will then be credited with the full order amount including shipping costs (unless you only want to return part of the order). Only the costs for returning from your home to the webshop are for your own account. If you make use of your right of withdrawal, you must return the product to us with all accessories supplied and in its original condition and packaging. To exercise this right, it is best to contact us via info@intimitijd.nl. We will then refund the order amount due within 14 days after registration of your return, provided that we have already received the product in good order.
You may use the withdrawal form: https://www.dropbox.com/s/2nz7sbiwiz3nc2e/modelformulier-voor-herroeping.doc?dl=1
Are you dealing with a defective product? Then we obviously find this very annoying and we will do everything we can to solve this for you. Please also contact us via info@intimitijd.nl
Can I also order products that are not offered on your webshop?
If you want a certain product that is not offered on our webshop, it is best to contact us via info@intimitijd.nl . Try to describe as clearly as possible what kind of product it is. We will then contact you to see what is possible.
Is it also possible to have products packed?
If you want to put together a package yourself and have it packed, please send an email to info@intimitijd.nl then we will see what is possible. Keep in mind that in most cases we charge an additional price for this.